Halloween at The School House Café
Halloween is celebrated on October 31st. This year with the Covid-19 restrictions in place things were a bit different this year.
At The School House Café our students celebrated the spookiest day in the calendar taking extra precautions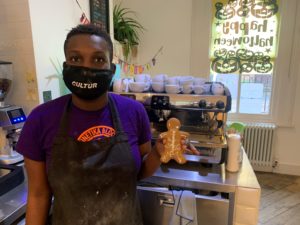 to keep themselves as well as our customers safe.
After making home DIY Halloween decorations for our Weekend Café of Horrors, students focused on using their tricks to prepare some terrifying treats. From Gingerbread Skeletons to a classic Pumpkin Bread bake, we made sure that our menu had something to everyone's taste on such spooky day.
It wouldn't be a proper Halloween without getting involved in traditional pumpkin carving. It proved to be quite challenging to all of us, but the results were worthwhile and brought smiles to many faces.
We already can't wait for next year's celebrations  to put our new skills to the test.
Why do we celebrate Halloween? 
The celebration can trace its roots back to Celtic traditions in the UK, Ireland and parts of northern France.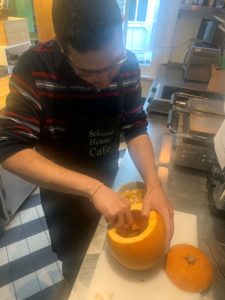 The holiday is thought to have started with the ancient Celtic festival of Samhain celebrated on October 31st the day before the Celtic New Year.
The New Year signified the end of the bountiful harvest and summer and the beginning of winter, which was associated with death.
Celts believed ghosts roamed the Earth on October 31, causing havoc and damaging crops. They also thought that their priests, the Druids, could predict the future during Samhain.
To celebrate Samhain, the Celts donned costumes, told fortunes and lit huge bonfires.
---