NEXT- Our New Employability Programme from May- July 23
We are thrilled to announce our new Employability programme.
NEXT is a unique and innovative programme designed to provide an enriching experience  for Nerurodiverse individuals.
NEXT stands for Nerurodiverse Experience And Training, and it is  running from May 2023 to July 2023
It is for Nerurodiverse individuals 25 and over in the London area. We can also offer places to anyone under 25 without an EHCP
The programme is tailored to provide personal career profiles, insight days, interview skills and job fair visits.  We aim to offer an opportunity for individuals to explore and gain experience in various jobs and work placements.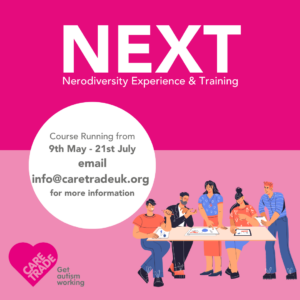 Whether you are new to the job market, seeking a career change, or trying to break into a competitive industry, NEXT is the perfect programme for you.
Through NEXT, you will gain valuable insights into different types of jobs and develop the skills required to succeed in the workplace. Our team will provide support and guidance to help you achieve your goals, build confidence, and develop a successful career. We can then also support you in the workplace via our In Work Support Service.
So, come and join us on this exciting journey of self-discovery, learning, and growth. Sign up for NEXT and embark on a transformative experience that will enhance your career prospects and enrich your life.
For more information please contact us at [email protected] 
---