World Autism Awareness Week- Positives of Employing Autistic People
Today for World Autism Awareness Week, TAP  Job -Club students made a poster. They talked about what autism awareness is and why it is important to raise awareness amongst employers. Students contributed their ideas about why an employer would want to employ them to try and help change perceptions of autism and raise the employment figures for autistic people.
They also discussed how an employer may be more open to employing someone with autism if they knew the support available and that there could be a job coach there to provide training and support in the workplace, this can be via Access to Work.
Contact us for more information about employing autistic staff and to be sent a copy of this poster for your workplace. Also a big thank you to Ash Jeffrey-Taylor for designing and drawing the tree (@artistrybyakmd )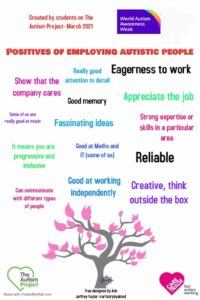 ---