World Suicide Prevention Day 10th September 2020
Suicide prevention remains a universal challenge
Thursday 10th September 202 is World Suicide Prevention day
The World Health Organization estimates that over 800,000 people take their own life each year – that's one person every 40 seconds.
This year, the theme for World Suicide Prevention day is 'Working Together to Prevent Suicide.'
https://www.healthwatch.co.uk/event/2020-09-10/world-suicide-prevention-day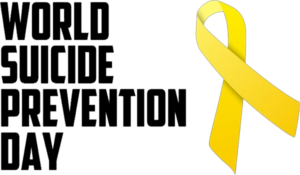 Evidence  from the National Autistic Society suggests autistic people are at a higher risk of suicidal thoughts and suicide. Many autistic people also experience mental health problems and social difficulties such as bullying – both these factors have been shown to increase the risk of suicidal thoughts in autistic people.  
https://www.autism.org.uk/advice-and-guidance/topics/mental-health/suicide
---