Employment and Transitions Conference 2023
We are thrilled to  be running our second Conference in partnership with Employment Autism and LSBU.
Last years was a great success and we hope to welcome you to this years.
Our conference this year will be on Wednesday June 21st at London South Bank University. 
This year's theme is Transitions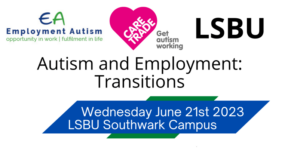 The event is now sold out but there it will be recorded and shared at a later date. For more information visit https://www.employmentautism.org.uk/news/conference-2023 
Here is some feedback from last year's conference:
"It was great to hear such a diversity of experiences and opinions."
"Very Useful – looking at different aspects/viewpoints involving autism."
"Thank you so much, it has been brilliant – so relevant and insightful for an autistic very late diagnosed woman and parent/carer working in local government bus struggling to maintain FT employment and remain healthy (physical and mental) and thriving. Please do run this conference again."
"Fantastic event! So many different points of view. Very glad to see AP being made welcome to the event."
"Was great to have a diversity of experiences in different contexts. Really generous sharing of experiences – thanks for all. Great day!"
---