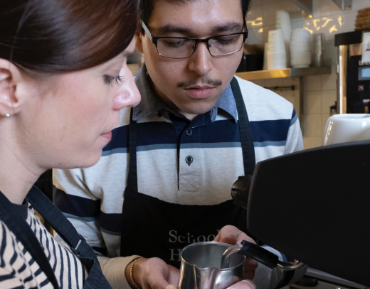 There are many ways your company can partner with CareTrade:-
support our mock interview programme
provide a work-placement opportunity for a student
sponsor an autistic jobseeker
promote your vacancies through us
employ a CareTrade graduate
CareTrade can support your company to:-
think differently about autism
promote neurodiversity
realise the benefits of a neurodiverse workforce
recruit the best people
CareTrade can work with you to develop bespoke support or programmes for your business, for example Think Talent for Barclays Legal or you can join one of our established programmes, for example our mock interview programme.
Either way CareTrade will ensure your staff and the autistic participants have the training and support they need. For businesses offering opportunities for our students, autism awareness training is free. We will work with you for as long as is needed and we will keep in regular contact.
Companies that have gone on to employ a CareTrade graduate, already know that you will find a loyal staff member who, once they know what is expected of them, will always do a good and thorough job. Watch our film "Britain's Secret Workforce" celebrating autistic adults in the workplace!
Give autism a chance – contact us today, to discuss your needs.
[email protected] or call 0203 375 6288