Happy New Year From Everyone At CareTrade
We know that this is not the start to 2021  that we hoped it would be.
We just wanted to wish everyone we work with a healthy, safe 2021 and we look forward to working with all. Building on old partnerships and we look forward to new ones too.
We are very lucky to have been able to commission a New Year picture from one of our students, who is also a talented artist, Stanley Galton.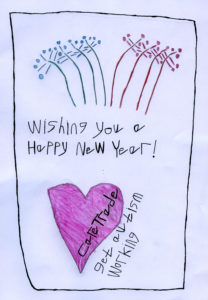 We are running our services remotely for the time being and happy to chat about any training or partnership opportunities that you may have.
We will update you on all new developments on the website as well as Twitter and Instagram please follow us if you don't already.
---