November 2020 on The Autism Project
As England heads into it's second lockdown of the year, staff and students at The Autism Project are focusing on what we have to look forward to over the next four weeks. It will be full of events and celebrations.
Last month, students took part in the October Healthy Challenge set up by our Wellbeing Lead, Elvina. They recorded their step counts for the month and completed numerous exercise sessions – including planking, burpees, and squats! Each time they completed a challenge, students earned a raffle ticket, and these will be counted next week. The winner with the most raffle tickets to their name will be announced on 11th November.
We will all be observing Remembrance Day on Wednesday 11th November, pausing for the two minutes silence to remember those members of the armed forces who have died in the line of duty.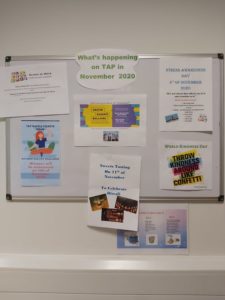 Diwali, the Indian festival of lights, will start on Saturday 14th November. We will have a sweet tasting session on 11th November, with students trying some 'Mithai' – traditional Indian sweets that are used to greet people, family and friends with the joy of celebrating the festival.
There are also some important awareness days that we will be recognising this month. We acknowledged Stress Awareness Day on the 4th November and will be celebrating World Kindness Day on Friday 13th November.
We will also be getting involved with Anti-Bullying Week 2020. Staff and students will kick the week off by wearing odd socks on Monday 16th November, in support of United Against Bullying. Students will continue learning more about this important theme in their classes throughout the week.
Finally, on Monday 23rd November, CareTrade Employment Manager Demelza will be delivering a virtual talk to our year three students on the Access to Work Scheme. This scheme is offered to our final year students to ensure that they are supported beyond the Autism Project.
November on The Autism Project will be a busy and eventful month and we are looking forward to celebrating, recognising and learning together.
---