Yoga Presentation for Autism Project (TAP) Students
Daisy, a 2nd year student on The Autism Project (TAP), has been working on a project to create a Yoga presentation for other TAP students.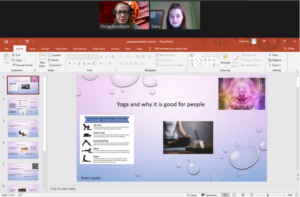 Daisy worked very well independently as well as with support from the Wellbeing lead. She prepared a very informative and interesting presentation about Yoga and why it is good for people. In the presentation she included health benefits of doing Yoga and explained in detail the reasons why it is good for people's mind and body.
Daisy also talked about her own experiences and benefits from doing Yoga. Daisy said it has helped her with her sleep and generally improved her physical and mental wellbeing.
Daisy's confidence has increased through practising the delivery of her Yoga presentation with the Wellbeing lead, she then went on to present to TAP students. In the past year Daisy's confidence has grown substantially and she has achieved so much in such a short time.
We are very proud of you Daisy!
---